COVID-19 Updates
---
March 29, 2022
Expanded eligibility for boosters
CDC expanded eligibility for an additional booster dose for certain individuals who may be at higher risk of severe outcomes from COVID-19. Boosters are safe, and people over the age of 50 can now get an additional booster 4 months after their prior dose to increase their protection further. This is especially important for those 65 and older and those 50 and older with underlying conditions. https://www.cdc.gov/media/releases/2022/s0328-covid-19-boosters.html
February 1, 2022
COVID-19 Vaccination Locations in NJ for Children 5-11 Years Old
In November, the CDC approved the Pfizer vaccine for children aged 5-11 year old.
There are approximately 28 million children between the ages of 5 and 11 years old in the United States, and there have been nearly 2 million cases of COVID-19 within this age group during the pandemic. COVID-19 can make children very sick and cause children to be hospitalized. In some situations, the complications from infection can lead to death.
Children are as likely to be infected with COVID-19 as adults and can:
Get very sick from COVID-19
Have both short and long-term health complications from COVID-19
Spread COVID-19 to others, including at home and school
Widespread vaccination for COVID-19 is a critical tool to best protect everyone from COVID-19 and COVID-19 related complications.
November 9, 2021
COVID-19 Vaccine for 5-11 Year-Olds – FAQ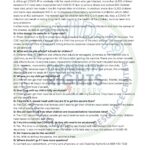 September 28, 2021
FDA Authorizes a Booster Dose for Pfizer COVID-19 Vaccine – What You Need to Know
The Food and Drug Administration (FDA) has recently authorized a third booster shot for people who received the Pfizer vaccine to increase the immune response to Covid-19.
In order to receive the Pfizer booster:
You completed your first series of Pfizer vaccines 6 months ago; and
You are 65 years of age and older; or
You are an individual 18 through 64 years of age and are at high risk of severe COVID-19; or
You are between 18 through 64 years of age and whose frequent institutional or occupational exposure (which includes but not limited to healthcare workers, teachers, grocery workers, bus drivers, day care staff, homeless shelters, prisons, people with mental illness and IDD) to SARS-CoV-2 puts you high risk of serious complications of COVID-19 including severe COVID-19.
As more information becomes available about the vaccine's effectiveness, it is important we stay safe and up to date. Talk to your doctor about receiving your Pfizer booster shot. If you received Moderna or the Johnson and Johnson vaccines, you are not eligible to receive a booster at this time.
If you need assistance with receiving your booster shot, please contact Disability Rights NJ.
August 24
Emergency Rental Assistance is available in New Jersey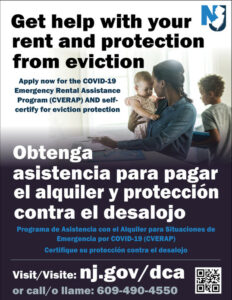 April 21
Rental Assistance Is Available to Help Tenants and Landlords
You might qualify for rental assistance, even if you are not facing eviction. There are many state, county, and municipal programs that can help you during the COVID-19 crisis. Each program has its own rules for who is eligible. Here is a list of resources for you to contact. We will update this page as we learn of more programs. NJ COVID Housing Assistance Programs
In times of crisis, there are many questions that arise with each changing day, as we navigate our way through the myriad of issues and concerns facing individuals with disabilities, and the loved ones that care for them. We've created this site to answer the call for information, gathered in one place to help those in need. As New Jersey's designated Protection and Advocacy agency, it is our mission to preserve the human, civil and legal rights of persons with disabilities, empowering equality through persistence, awareness and expertise.
Below you will find a collection of important links that may be of help to you in your quest for information. Please also take a look at our FAQ pages for answers to issues facing the Developmentally Disabled community and concerns regarding the Economic Stimulus & Social Security benefits.